The majority of survey respondents (87%) were orchard owners, partners, or lessees, while 9% were hired managers. Approximately 70% of respondents described their farm operations as family or individual operations (see Figure 1).
Respondents operated, on average, 385 acres of farm/ranch land in 2009. Over one half (54%) of respondents produced other agricultural products (e.g., almonds, cherries, grapes, peaches, prunes) in addition to walnuts.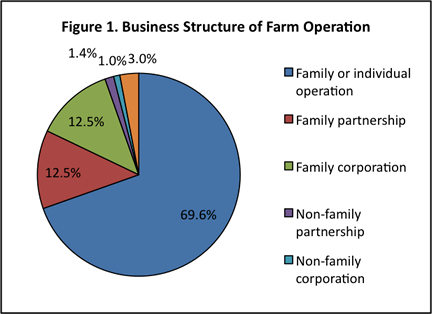 Respondents grew, on average, 110 acres of bearing walnuts and 21 acres of non-bearing walnuts in 2009. The most popular walnut varieties (in terms of mean bearing acres) were Chandler (45 acres), Hartley (15 acres), Howard (14 acres), Tulare (8 acres), and Serr (8 acres).
Seventeen percent of respondents had less than $10,000 in gross income from walnut production, while 14% reported $500,000 or more in gross walnut income (see Figure 2).